Fun Quirky Ways to Make Your Salads Awesome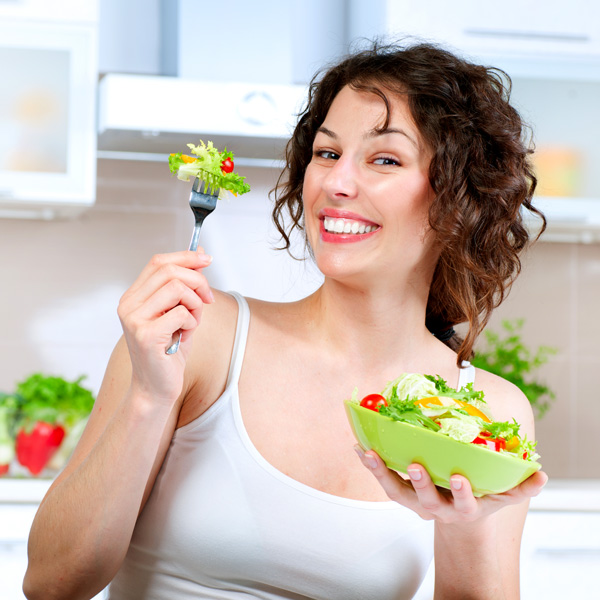 Everybody knows salads are good for you. Just eating two dark leafy greens each day can give your skin the collagen it needs to keep you looking young. And don't get me started on all the other huge benefits that greens of all sorts can give – huge amounts of beta carotene, fiber, vitamin C, vitamin E, folate and disease fighting phytochemicals. But the greens is just the beginning of an amazing salad. Heck, you don't even need to use greens all the time.
Salads are without question one of the most versatile things you can make. As long as you have some fresh bounty from the earth – fruits and vegetables – anything else you can think of will work. If you're getting bored with your salads, check out these ideas to make your next salad pop.
Step outside the lettuce box: Regular old iceberg lettuce doesn't have to be in every salad you make. Spinach and mixed greens are good place to start, but think even more outside the box. Raw chopped kale or Swiss chard can make for a more full bodied bite of greens, and arugula can be a fun way to liven up your palette if you don't mind a little spice it has a bit of a pepper aftertaste).
Also, escarole, endive and collard greens can be chopped and eaten raw. And don't forget there are other types of lettuce that taste loads better than iceberg. Bibb, butter, and red leaf lettuces can make for a totally different flavor profile in your salad.
Go for some crunch: Having a bit of a crunch in a salad is a must. You can always go the traditional route and add sunflower seeds, or you can try roasted almonds, pumpkin seeds or soy nuts. Chinese noodles can also be a great thing to add and make the healthy stuff easier to eat.
Don't be afraid of canned veggies: An inexpensive and delicious way to make your salads different is using canned veggies, but only certain ones of course. Canned beets and artichokes make for delicious salad additions because – surprisingly – they taste delicious straight from the can.
Seasoning is a must: A lot of people forget to season their salads and that's just silly. A little salt and pepper can go a long way in making your salad come together. Also, try adding a little paprika or garlic salt, or even Mrs. Dash or another spice mixture you like, to take your salad to the next level.
Mix your dressings: Why use just one dressing when you can use several? You'll be surprised at how delicious a salad can be by mixing certain dressings together. Using apple cider vinegar as your base, then adding a raspberry vinaigrette mixed with a drizzle of blue cheese dressing is one awesome example.
Like so many things in life that pull you into a rut, the salad rut can be one of the worst. All you have to remember is that anything goes with a salad. Whatever you love, your favorite fruit or vegetables, use them with your favorite dressing and see what happens. You never know what tasty flavor explosion you might end up creating.